Discover Our Unique Pepper Seasonings
- A Montana Railroad Heritage -
Artisanal pepper blends with a railroading family heritage
The story of our family's unique pepper blends, along with our unusual name has its roots in three generations of eastern Montanans who railroaded, share a passion for good food and since 1906, still call Big Sky Country home. While working on the railroad, they searched for delicious food in roadside diners, saloons, boarding houses, and depot beaneries. As a result, the quest was on for the tastiest, well-seasoned food.
Over 35 years ago, our father, a railroader and food connoisseur, began experimenting to create the perfect pepper seasoning. He crushed and taste-tested his way through countless rounds of experimentation using a restored coffee grinder. The result was a full-bodied, aromatic blend of sun-dried garden vegetables and fresh peppercorns that everyone loved.
Today, we still make Gandy Dancer Pepper in Montana, but on the other side of the Rockies. We coarse grind it in single batches using a vintage electric grinder from an old A&P Market, just like we did over 35 years ago. This way, we ensure that each batch of our unique pepper seasoning is of the highest quality and has the same great taste that everyone loves.
Our family is proud to have created a seasoning that is unlike any other! We hope that you will enjoy Gandy Dancer Pepper as much as we do.
Read about us in Montana Quarterly Magazine
Ground Gourmet Pepper
Experience Unique Flavors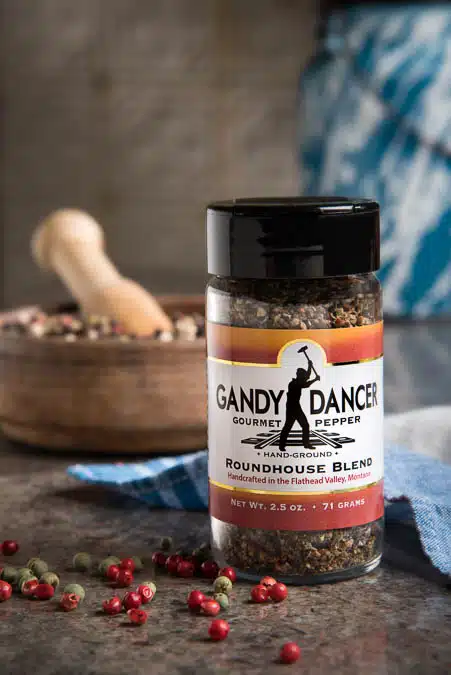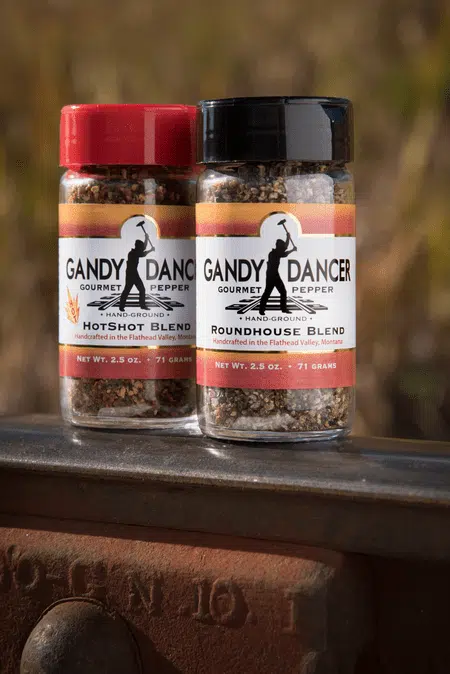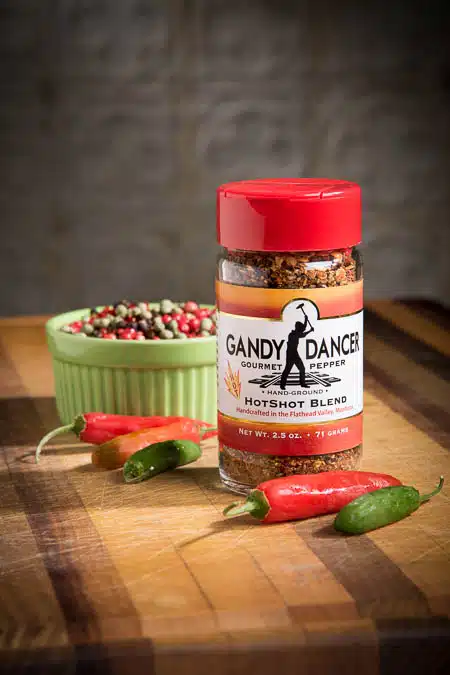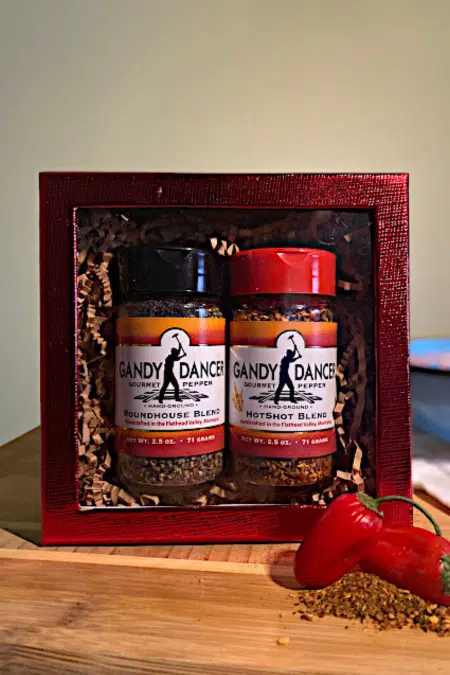 Frequently Asked Questions
What makes our ground gourmet pepper unique
Our freshly ground gourmet pepper is unique because it is hand-crushed in small batches using only the finest quality peppercorns sourced from around the world. The process of hand-crushing the peppercorns ensures that each grain retains its full flavor and aroma, making it more intense and flavorful than pre-ground pepper. Moreover, the small batch production method guarantees a consistent quality in every jar. Our pepper is not only fresh, but it also comes with a rich, bold taste that can elevate any dish and bring a gourmet touch to your home cooking. With our gourmet pepper, you can be sure that you are getting a premium product that sets itself apart from the rest.
How is our pepper hand crushed ?
Our pepper is hand-crushed using an old-style coffee grinder. The grinder is specially designed to retain the full flavor and aroma of each peppercorn, producing a fresher and more intense taste compared to pre-ground pepper. The hand-crushing process allows us to control the size of the grind and produce a consistent quality with each batch. The use of the traditional coffee grinder also adds a touch of nostalgia to the production process, making it a unique and special product. Whether you are a gourmet chef or a home cook, our hand-crushed pepper is sure to become a staple in your kitchen, elevating your dishes with its bold, fresh flavor.
What are the benefits of freshly ground pepper compared to pre-ground pepper?
There are numerous benefits to using freshly ground pepper compared to pre-ground pepper. Freshly ground pepper has a more intense flavor and aroma due to the essential oils being released during the grinding process. This results in a more vibrant taste for your dishes. Additionally, freshly ground pepper has a longer shelf life compared to pre-ground pepper, which can lose its flavor over time. Furthermore, freshly ground pepper is more versatile as you can adjust the size of the grind to suit your specific recipe.
What are the ingredients in our gourmet seasoning?
Our gourmet pepper seasoning is a blend of the finest quality ingredients from around the world. Our signature blend consists of the following ingredients: Habaneros, Chipotle Moritas, Arbols, Jalapeños, Thai, Smoked Serranos, Bhut Jolokia and Red Chiles. These ingredients are carefully selected and combined to create a unique and flavorful blend that will enhance any dish. The blend of chiles provides a balanced heat, with just enough kick to add a touch of excitement to your food without overpowering it. The ingredients are all natural and contain no artificial preservatives, making it a healthier and more flavorful alternative to pre-packaged spice blends. With its bold and complex flavor profile, our gourmet pepper seasoning is perfect for those who are looking to take their cooking to the next level and add a touch of gourmet sophistication to their dishes.
How can you use our pepper?
Our ground pepper seasoning is incredibly versatile and can be used in a wide range of dishes to add bold, gourmet flavor. Whether you're looking to add heat to a classic dish or want to spice up a milder recipe, our pepper seasoning is the perfect choice. Some popular ways to use our pepper seasoning include:
Sprinkling it on scrambled eggs or omelettes for a spicy breakfast
Rubbing it onto steak, chicken or fish before grilling or roasting for a bold and smoky flavor
Adding it to soups, stews or chili for a warm and comforting taste
Mixing it into marinades or dressings for a burst of flavor
Sprinkling it on vegetables, potatoes or rice for a simple but tasty side dish
The possibilities are endless and our ground pepper seasoning is sure to become a staple in your kitchen, adding bold and flavorful taste to your meals with just a sprinkle. Whether you're an experienced cook or just starting out, our ground pepper seasoning is an easy and delicious way to add excitement to your cooking.
What is the size of our pepper packages?
We offer a variety of packaging options for our freshly ground gourmet pepper to suit the needs of all our customers. Whether you're a seasoned cook or just starting out, we have a package size that will fit your needs. Our standard packages come in 2.5 oz and 8 oz, providing a convenient and cost-effective option for those who want to try our pepper or who only need a small amount. However, for those who love our pepper and want a larger supply, we also offer bulk options. Our bulk pepper can be purchased in whole quantities, perfect for those who use our pepper frequently in their cooking and want to have a ready supply on hand. So whether you're looking to try a new spice or you're a seasoned cook who needs a large supply of premium pepper, we have a package size that will suit your needs.
How can you be assured of a safe and secure shopping experience on our website?
We understand that security and privacy are important concerns for our customers. That's why we take every measure to ensure that your shopping experience is safe and secure. Our website is equipped with state-of-the-art encryption technology to protect your personal information, including your name, address, and payment information. We also regularly monitor our systems for any signs of suspicious activity to prevent fraud and keep your information safe. Additionally, we never sell or share your information with third parties, so you can be assured that your privacy is always protected. Our goal is to provide you with a seamless and secure shopping experience so that you can enjoy shopping with confidence. If you have any questions or concerns, our customer service team is always here to help.