Chicken and Mushroom Soup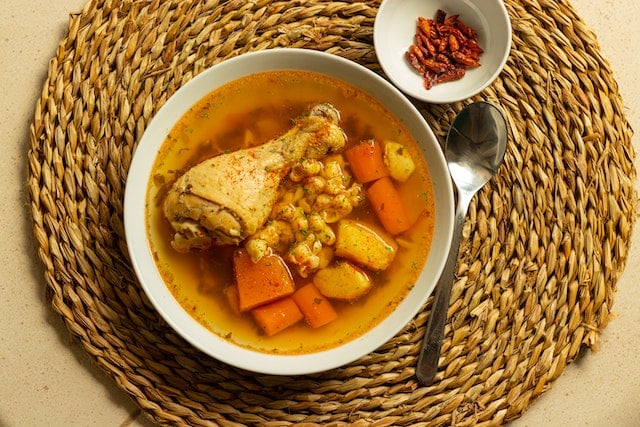 This Gandy Dancer Pepper seasoned chicken and mushroom soup is a comforting and flavorful dish that is perfect for a chilly day or when you're in need of a warm and hearty meal. The soup has a delicious base made from low-sodium chicken broth, sautéed onions, and garlic, and is seasoned with Gandy Dancer Pepper to add a subtle heat and depth of flavor. The mushrooms add a savory richness and meaty texture to the soup, while the chicken and egg noodles make it a filling and satisfying meal. The soup is finished with a garnish of fresh parsley, which adds a pop of color and freshness to the dish. This recipe is easy to make and is perfect for a family dinner or meal prep for a busy week.

Prep Time 1 hour

Total Time 1 hour
Ingredients
1 pound boneless, skinless chicken breasts, cut into bite-sized pieces
1 tablespoon olive oil
1 tablespoon unsalted butter
1 medium onion, chopped
2 garlic cloves, minced
1 teaspoon Gandy Dancer Pepper
8 cups low-sodium chicken broth
8 ounces sliced mushrooms
1 carrot
1 teaspoon dried thyme
1 bay leaf
1 cup uncooked egg noodles
Salt and pepper, to taste
Chopped fresh parsley, for garnish
Instructions
In a large pot or Dutch oven, heat the olive oil and butter over medium heat. Add the chicken and cook for 5-7 minutes or until browned on all sides. Remove the chicken from the pot and set it aside.
Add the onion, garlic, and Gandy Dancer Pepper to the pot and sauté until the onions are translucent, about 5 minutes.
Add the chicken broth, mushrooms, diced carrots, thyme, and bay leaf to the pot. Bring the soup to a boil, then reduce the heat to low and let it simmer for 15-20 minutes, or until the mushrooms are tender.
Add the uncooked egg noodles to the pot and let them cook for 8-10 minutes, or until they are tender.
Add the reserved chicken back to the pot and let it cook for an additional 5-7 minutes, or until it is cooked through. Season the soup with salt and pepper to taste.
Serve the soup hot, garnished with chopped fresh parsley.
Notes
This Gandy Dancer Pepper seasoned chicken and mushroom soup is a comforting and flavorful dish that's perfect for a chilly day. The Gandy Dancer Pepper adds a subtle heat and depth of flavor to the soup, while the mushrooms add a savory richness and meaty texture. The chicken and egg noodles make the soup hearty and satisfying, and the fresh parsley garnish adds a pop of color and freshness. This recipe is easy to make and perfect for a family dinner or a meal prep option for a busy week.