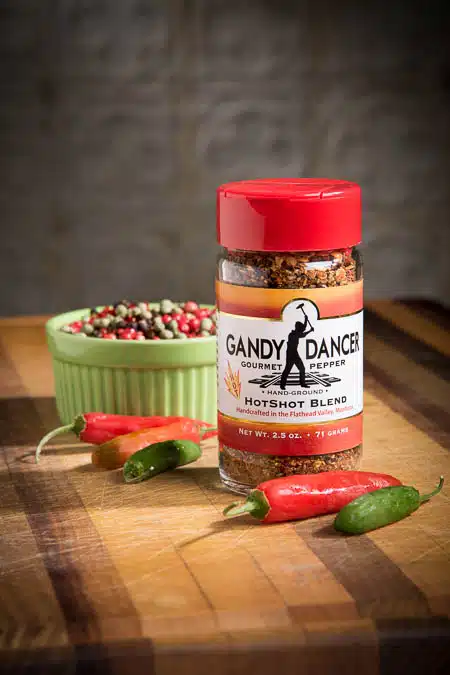 A one-time price of
$14.00
will be added to your order.
Description
Specifications
Customer Reviews (10)
Gandy Dancer's HotShot Blend was engineered to be hot! Carefully hand ground in single batches, this atomic combination of chile peppers and peppercorns sourced from around the world has earned its reputation by our customers as the best of both worlds: intense heat accompanied by maximum flavor. The versatile chipotle morita adds a rich and smoky sweet flavor, while the sultry smoked serranos delight the palate with a molasses layer. Clocking in with some 'off the charts' Scoville units, this spicy medley of eight different chile varieties, paired with the underlying flavor of our flagship seasoning as a base . . . just may be the 'holy grail' for heat lovers.
Our pepper blends are handcrafted in a certified kitchen in the Flathead Valley of Montana, near Glacier National Park. Our products are non-GMO, salt and gluten-free with NO additives. Glass bottles contain 2.5 oz.
Ingredients: Habaneros, Chipotle Moritas, Arbols, Jalapeños, Thai, Smoked Serranos, Bhut Jolokia, Red Chiles, Peppercorns
Weight: 2.5oz
10 Reviews for HotShot Blend
Awesome kick to it - Wednesday, April 5, 2023

"My husband and I got the HotShot from a sweet kitchen store in Whitefish and we fell in love with it right away. It has an awesome kick to it... a perfect kick! We have a friend who tried it and fell in love as well, so we got some for him too! Thank you for making such a yummy product:) Can't wait to try the RoundHouse blend!"
Heidi, Coeur d'Alene ID

Never have a pizza without HotShot - Wednesday, March 8, 2023

I will never bake another pizza without HotShot sprinkled on it!"
Daryl, Missoula MT

It has a great flavor and a perfect amount of heat - Friday, December 16, 2022

My brother and I love it, it has a great flavor and a perfect amount of heat."
Brian, St Maries ID

It's the best pepper blend I've ever had - Sunday, October 30, 2022

I'm about halfway through the bottle I bought at Double DD Meats in Mountlake Terrace, and it's the best pepper blend I've ever had. I'm experimenting with just how much I can use at a time. Using it at the table in place of black pepper will be the next challenge. 🔥😦🔥 Of all the exotic spices in my cupboard, salt and your pepper blend are my 'go to' combo for just about everything. I'll be placing another order soon.
Fred, Shoreline WA

LOVE hot challenges - Monday, October 3, 2022

My husband, who hates hot stuff, got me some of your Gandy Dancer HotShot and I did use it sparingly and it was delicious!! My son-in-law Isaiah, and my grandkids LOVE hot challenges 😂. They just did the "one chip challenge," and suffered . But they will enjoy your product, guaranteed.
Debi, Bigfork MT

We love this stuff - Thursday, June 23, 2022

We love this stuff and everyone we share it with demands more! I thought it was awesome you have Venmo.
Kristi, Sultan WA

We put it on everything!! We love your product!! - Tuesday, November 9, 2021

We bought some HotShot while we were in Montana a few months back and fell in love with it. We use it consistently and are almost out, so we are super excited to get more. We put it on everything!! We love your product!!
Chrissy, Calvert City KY

The best stuff ever!! - Wednesday, September 9, 2020

My parents live in Bigfork and introduced me to GDP; it is the best stuff ever!! I've been turning all my friends on to it since and look forward to us ordering again!" Thanks for such a phenomenal blend! Just promise to never stop making it, can't imagine life without GDP!
Rob, Auburn WA

My husband uses it on everything - Saturday, August 8, 2020

We bought our first bottle last year while staying at the Izaak Walton Inn. My husband uses it on everything! I always have it on hand. We are almost out!! I have given it as hostess gifts with a "heat warning". Needless to say, we are Gandy Dancer fans!! Your note is such a special kind of customer service. I appreciate it!
Gayle, Billings MT

The heat and flavor are unique and delicious - Sunday, July 28, 2019

I have many spices to use in my kitchen but the HotShot is what I consistently reach for. The heat and flavor are unique and delicious. I love it soooo much --maybe too much. I finished the bottle very quickly as I realized the spice combo is great with soups, meats, breakfast foods, sauces. I am clearly addicted and will continue to be a great fan of HotShot blend. In fact, I was cooking with it tonight!
Alfredo, Washington DC
Submitting Your Review, Please Wait
Your Review Has Been Submitted Successfully
Add a review for HotShot Blend
You must include a title, rating, and message in your review.
Your Review Title
Your Rating
Your Review