RoundHouse & HotShot Bundle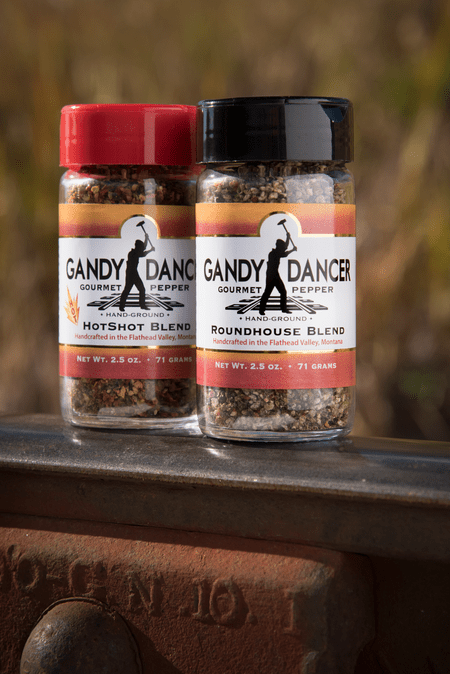 A one-time price of
$24.00
will be added to your order.
Description
Specifications
Customer Reviews (3)
RoundHouse: Experience a flavorful journey with Gandy Dancer's original blend. This carefully crafted seasoning features premium peppercorns combined with other spices to create a unique taste that will take your cooking to the next level. Perfect for any dish, from meats to vegetables and everything in between, RoundHouse Pepper is a 'must have' for any food lover. HotShot : Want to add a measure of excitement to your dishes? Experiment with variable degrees of heat using this spicy blend of dried chiles, varietal peppercorns and other spices. We find it the perfect condiment for those who love a little (or a lot of) kick in their food. Ratchet up the Scoville units with a dash of HotShot in chili, soups, stews, aiolis and of course … SHAKE it on your pizza for a bold and delicious flavor. Kick it up a notch with omelettes, potato salad, egg salad, sandwiches and veggies. Perfect for Bloody Marys. Just don't get too wild . . . start with a smidgen. Our pepper blends are handcrafted in a certified kitchen in the Flathead Valley of Montana, near Glacier National Park. Our products are non-GMO, salt and gluten-free with NO additives. Glass bottles contain 2.5 oz.
RoundHouse Ingredients:Peppercorns, Sweet Red Bell Peppers, Green Bell Peppers, Onion, Carrot, Tomato, Celery, Spinach
HotShot Ingredients: Habaneros, Chipotle Moritas, Arbols, Jalapeños, Thai, Smoked Serranos, Bhut Jolokia, Red Chiles, Peppercorns
Weight: 2.5oz each bottle
3 Reviews for RoundHouse & HotShot Bundle
The best pepper and veggie blend - Thursday, January 5, 2023

Gandy Dancer RoundHouse blend is the best pepper and veggie blend we've ever used. In fact, we hardly use black pepper anymore; we go right to Gandy Dancer RoundHouse. It is a staple in our daily cooking. We recommend it to anyone that asks about it. We do a lot of cooking and grilling, and it is always highly recommended when talking food with others. Also, the Gandy Dancer HotShot pepper blend is one of the hottest blends we have ever found! If you like hot foods or spices, this blend is the way to go! Whether you try just one or both of the Gandy Dancer blends, you will not be disappointed!

John & Eva, Deer River MN

Your family's delicious food and drink creations are the best! - Friday, April 9, 2021

I'm super excited about the pepper. I had some when I was home for Christmas and it was delicious! My sister shared the link to your website the other day so now I get to have some too! Your family's delicious food and drink creations are the best!
Scoti, Beaverton OR

This pepper is so good - Thursday, December 3, 2020

This pepper is so good, I had to send some to my daughter in NYC. I love the strong pepper smell you get when you open the container.
Chris, Seattle WA
Submitting Your Review, Please Wait
Your Review Has Been Submitted Successfully
Add a review for RoundHouse & HotShot Bundle
You must include a title, rating, and message in your review.
Your Review Title
Your Rating
Your Review